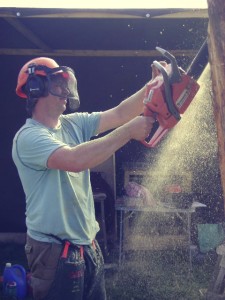 I was born and grew up in the town of Mullingar in Co Westmeath, situated in the midlands of Ireland, about an hour from Dublin. Mullingar is a commercial town with thriving businesses and good people. Ten minutes' drive in any direction will have you immersed in the rural heartland, whether it's ancient hardwood forests, beautiful open bog land or crystal clear trout fishing lakes – it's all here.
I believe that where we come from shapes our sub-conscious and pushes us in a certain direction in life. Most of my childhood and adult life was spent in in these outdoor playgrounds. Wood carving connects me to nature and I think that is why I love it so much.
I have been woodcarving for almost twenty years. A carpenter/cabinet maker by trade, wood carving seemed a totally natural progression for me. I am mostly self-taught but have been lucky enough to have had tuition from Chris Pye the master woodcarver. My influences are mainly Celtic mythology and Irish folklore and fantasy literature such as Tolkien, Robert Jordan, Patrick Rothfuss and George R R Martin. Characters from Irish mythology and folklore offer me a wealth of amazing material to work with. The beauty of carving a mythological figure is that it comes with an enchanting story and a cultural aspect that people can connect with. Also, symbols such as "The Green Man" convey a message of the green energy of nature, rebirth and wisdom.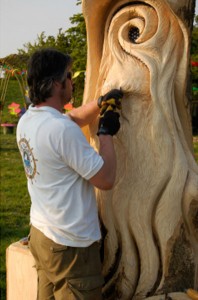 Sadly when a large tree has to be felled or topped for one reason or another, it is nice to be commissioned to carve it on site into what will be its next life so it will continue to live on in its new form. Whether it is hand carved signs, letter carving, tree spirits, gargoyles, druids, wizards or the Salmon of Knowledge, I will happily work with my clients to tailor a figure to their needs or location. From small decorative indoor pieces to large log carvings or carved tree trunks and stumps, there is very little I cannot work with. I take pride in working with my clients to deliver a piece of art and a value for money and quality that is second to none.